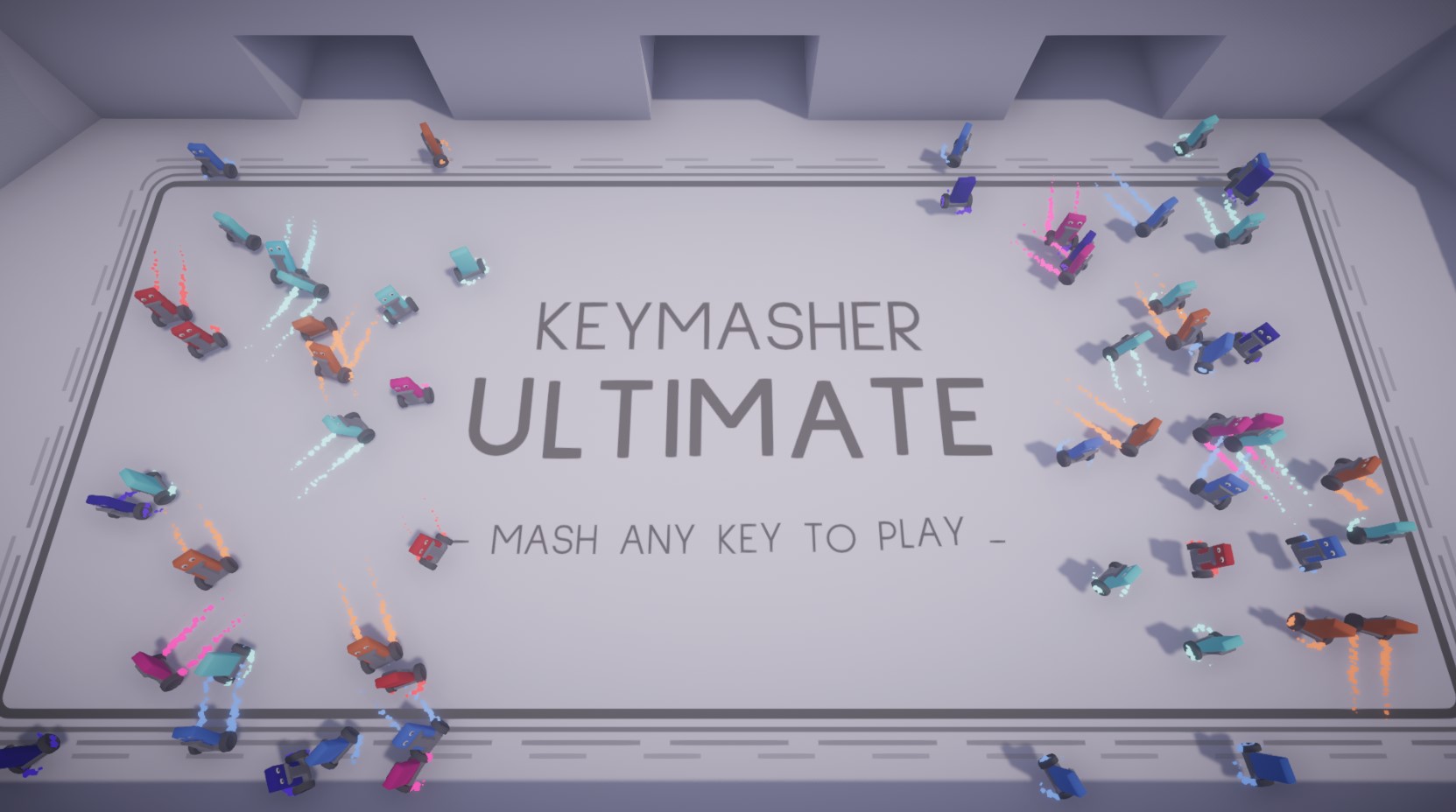 KEYMASHER ULTIMATE
A downloadable game for Windows, macOS, and Linux

KEYMASHER ULTIMATE
-KEYMASHER ULTIMATE is a game made for the Ludum Dare 50 -
DISCLAIMER : EXPLOSIONS.
HELLO PLAYER AND WELCOME TO KEYMASHER ULTIMATE!!!!!! I DESTROYED MY CAPS LOCK KEY SO HERE COMES THE CAPITALIZED LETTERS!!!!! YAY!

SO BASICALLY THIS IS A GAME ABOUT DESTROYING YOUR KEYBOARD.
BOOM EXPLOSION
OKAY SO THE GOAL OF THE GAME IS TO MASH YOUR KEYBOARD TO YEET AND ELIMINATE THOSE PESKY SEGLINGS. DO NOT LET THEM INVADE YOUR SCREEN!!!!
YOU CAN UPGRADE YOUR KEYBOARD WITH BETTER KEYS. LIKE A NUKE KEY. FOR REAL. BE CAREFUL YOUR KEYS CAN BREAK. IF THEY BREAK... NO MORE EXPLOSIONS FOR YOU.

NO LORE
WHO HAS TIME FOR LORE?! THERE IS NO LORE!! ONLY EXPLOSIONS AND KEYBOARD MASHING! KEYMASHER! KEYMASHER! KEYMASHER!
CONTROLS: HUDZEAUIHDZAUIHUIZAE
USE THE ALPHABETICAL (+ A FEW WEIRD KEYS DEPENDING ON YOUR KEYBOARD) TO DO THINGS. SERIOUSLY IT'S THAT EASY.
LEADERBOARDS
WE ADDED THIS SO YOU CAN COMPARE WITH THE WORLD HOW MANY SEGLINGS YOU HAVE OBLITERATED. THE MORE THE BETTER!
IT'S SHORT BUT EH IT WAS MADE FOR A GAMEJAM
WELL YEAH THAT'S IT. ENJOY!!
GKDL?SDLKFD. M§;!F.DM§DX./KSDML!;:!SDLKQ
CREDITS
GRAPHICS / AUDIO / EXPLOSIONS : Thomas Lebrun (Raivk)
SYSTEMS DEVELOPER & UI DESIGNER : Anatole Chaumont (CharlieTU)
GAMEPLAY DEVELOPER : Jean-Christophe Joubier (eFrag)
GAMEPLAY DEVELOPER : Paul Godard (Hitnrun)

- FOR YOU, LINUX AND MAC PLAYERS -
WE DO NOT HAVE EASY ACCESS TO A LOT OF MAC AND LINUX COMPUTERS. SO WE TESTED THE BUILDS AS MUCH AS WE COULD. IT SHOULD WORK, BUT IF YOU ENCOUNTER ANY BUG, DO NOT HESITATE TO REPORT IT TO US (EITHER ON OUR DISCORD SERVER OR HERE). WE'LL TRY OUR BEST TO FIX IT.
| | |
| --- | --- |
| Status | Released |
| Platforms | Windows, macOS, Linux |
| Rating | |
| Authors | Teagher Studio, Raivk, CharlieTU, eFrag, Hitnrun0001 |
| Genre | Action |
| Tags | Explosions, Fast-Paced, Game Jam, keyboard, Low-poly, Ludum Dare 50, Top-Down, ultimate, Unity |
| Links | Ludum Dare |
Download
Install instructions
...DOWNLOAD THEN EXTRACT THEN PLAY!!!!