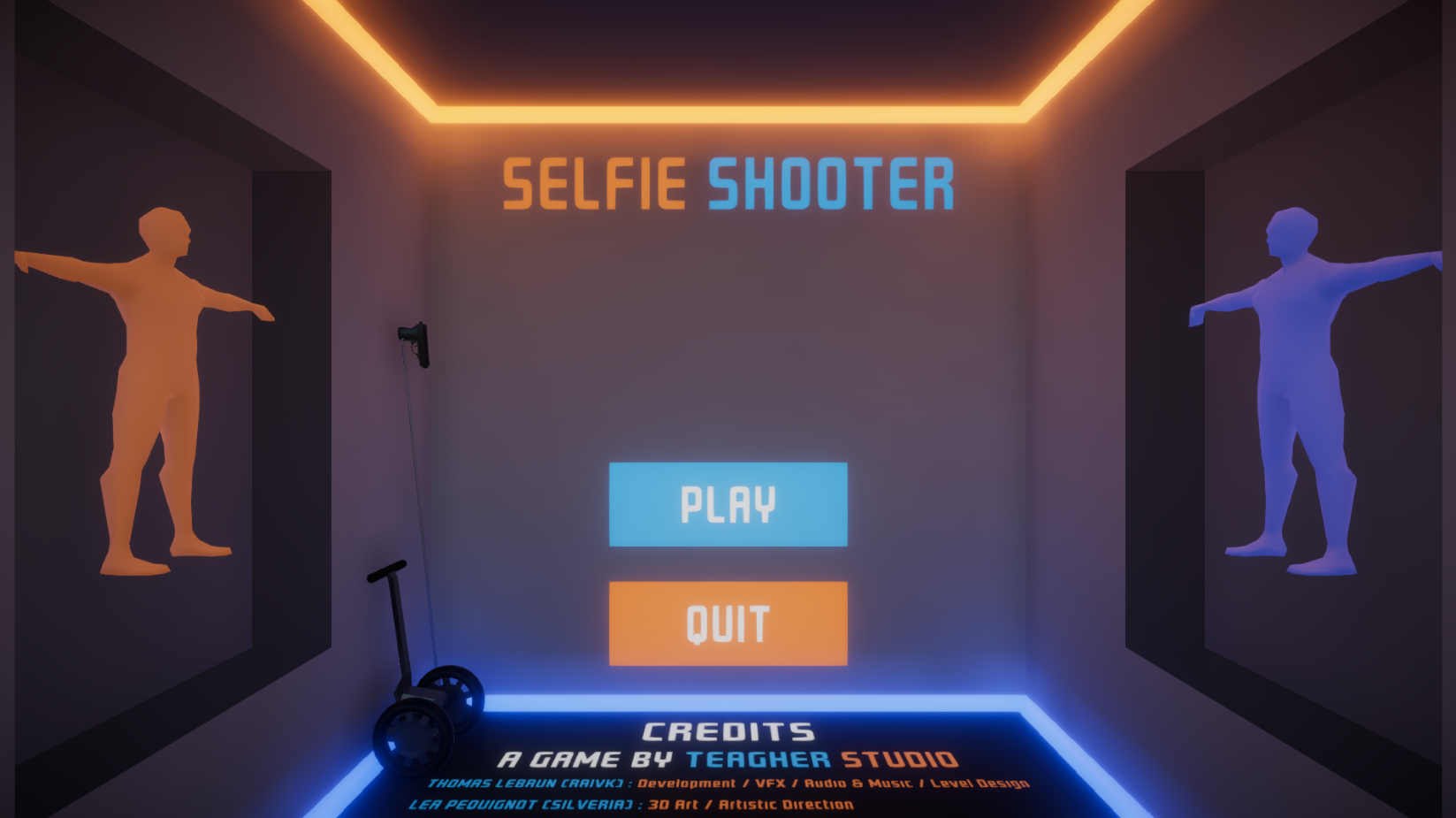 Selfie Shooter
A downloadable game for Windows, macOS, and Linux
SELFIE SHOOTER
TRY NOT TO SHOOT YOURSELF CHALLENGE #725
Enter a selfie shooting contest and win by.. killing your opponent ?!
Selfie Shooter is a "versus" game where two players on segways fight each other with selfie-stick-mounted-guns. Obviously, as it is a selfie-stick, the gun points at its wielder. So, try to drive the segway around the arena and make a beautiful - deadly - selfie with your opponent !
To spice things up, customize your game by choosing a victory condition, a camera mode and a variety of modifiers.
Game Modes :
Classic : Be the first to reach the score limit.
Time Attack : Score as much as you can before the end of the timer.
Camera Modes :
Overview : Have a 3rd person hovering camera to see the arena from above.
Selfie : Classic split screen, with each the camera placed on the guns ! The true selfie-shooter-way.
Modifiers :
Ultra Violent : Only one bullet to kill.
Reverse : Well... make the gun look away from the player. No more selfies.
Extreme Speed : Self explanatory.
Low Gravity : Self explanatory.
(Really) Long Sticks : Not kidding, these selfie sticks are really big.
Turn Based : You read right. Yup, Turn by turn versus action.
CONTROLS
CUSTOMIZED ! - The controls are chosen in-game with the menu. Play however you want. 2 players on a keyboard ? Let's go ! 2 controllers ? Let's go too ! A mix of the two ? Of course you can !
CREDITS
Thomas Lebrun (Raivk) : Code / 3D Art / Audio / UI / VFX
Léa Pequignot (Silveria) : 3D Art / Artistic Direction
BE FAST AND ACCURATE. WIN THIS DEADLY SELFIE-STICK BATTLE !
Download
Click download now to get access to the following files:
SelfieShooter_Windows.zip
129 MB
SelfieShooter_Linux.zip
138 MB
SelfieShooter_Mac.zip
136 MB