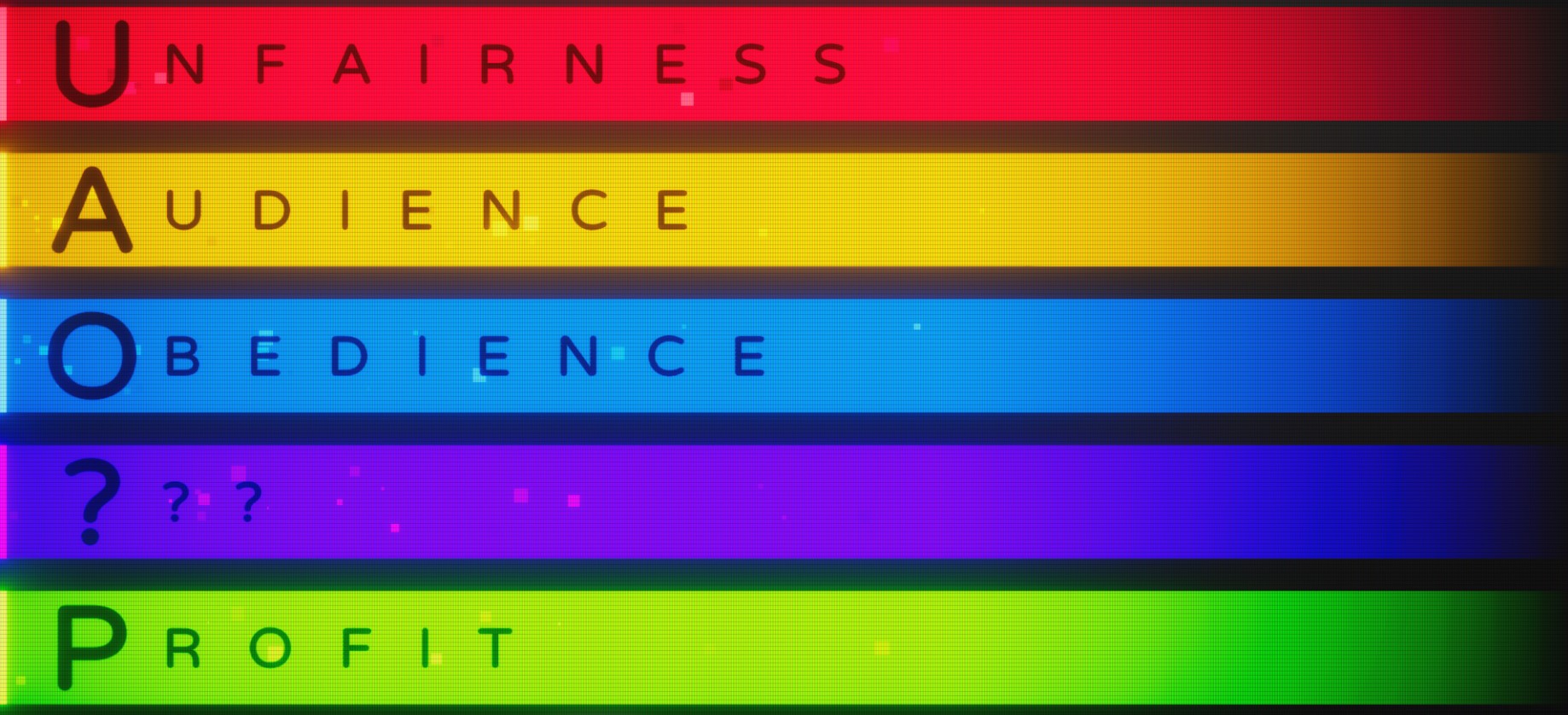 UAO?P
A downloadable game for Windows, macOS, and Linux

UAO?P
-This is a "game" made for the Ludum Dare 51 -
DISCLAIMER : IT'S WEIRD.
This game is weird. It's intentionnaly weird. Like... We made it weird ON PURPOSE. Why? ...Why not! It's a game made for the Ludum Dare 51. No justification needed.
EPIC MANAGEMENT
You are managing a segway racing competition (yeah yeah we know, once again a game about segways). However, every 10 seconds something really bad (well it's subjective) happens. It ranges from boredom to any kind of simplified apocalypse. And you have to take decisions before it happens to survive. Of course, these decisions are often absurd and weird. Good luck.
How does it work? You have 5 gauges : Unfairness, Audience, Obedience, ???, Profit. If any gauge is empty right after a cataclysm... It's a gameover. That's it.
QUICK DECISION MAKING
Okay so basically this is a game about making quick decisions and living with the consequences. Oh the game won't always tell you the consequences. At least... not explicitely. Be fast, be lucky, and everything should be alright. Or take your time. It may be the key to surviving. Who knows?

CONTROLS: CLICK
Click on things to do things. That's it.
I DUNNO WHAT TO SAY
The game is weird, absurd and that's it. We had a lot of fun making it. Oh my... It was so fun!
WHATEVER
See ya!
UAO?P UAO?P UAO?P UAO?P UAO?P
CREDITS
UI DESIGN / AUDIO / VFX : Thomas Lebrun (Raivk)
DEVELOPER : Anatole Chaumont (CharlieTU)
DEVELOPER : Jean-Christophe Joubier (eFrag)
DEVELOPER : Julia Marinelli (Donhadryel)

3D ART : Lea Pequignot (Silveria)
I'M A USELESS PIECE OF TEXT!
| | |
| --- | --- |
| Status | Released |
| Platforms | Windows, macOS, Linux |
| Rating | |
| Authors | Teagher Studio, Raivk, CharlieTU, eFrag, JuliaMarinelli |
| Genre | Simulation, Racing |
| Tags | Funny, Ludum Dare, Meaningful Choices, Neon, segways, Singleplayer, weird |
| Links | Ludum Dare |
Download